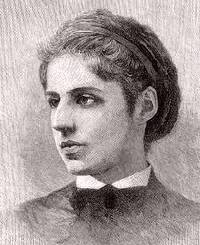 Emma Lazarus
Biografía
Emma Lázaro, nacida el 22 de julio de 1849 en Nueva-York, es la cuarta hija de los siete que tuvieron a Moisés Lázaro y Esther Nathan, una familia estadounidense de origen portugués establecida en Nueva-York desde el período colonial. Originalmente esta familia había huido de la inquisición portuguesa. Anteriormente, una especialista en refinación de azúcar, Emma nació en una familia relativamente rica de Nueva-York y creció en una casa adinerada de Union Square. Por su madre está vinculada a un juez de la Corte Suprema de los Estados Unidos, Benjamin N. Cardozo. Su carácter judío, de origen sefardí, desempeñó un papel importante en su carrera como escritor, y lo influenció en sus decisiones políticas y en la acción pública.
Emma recibe una educación rica y completa, tiene un preceptor que se abre al conocimiento del mundo. Ella está particularmente interesada en la escritura. Desde temprana edad, Emma muestra habilidades excepcionales en la literatura. Se especializa en literatura estadounidense y británica y aprende varios idiomas, entre ellos alemán, francés e italiano. Comienza a escribir poemas que serán publicados por su padre. Esta colección es notada por Ralph Waldo Emerson, quien lo introduce en los círculos literarios de Nueva-York y al mismo tiempo se convierte en su mentor. Publicó otro volumen de poesía, "Admetus y otros poemas" (1871) y una novela, "Alide: Un episodio en la vida de Goethe" (1874) y un drama en verso, "El Spagnoletto" (1876). Después de leer la novela "Daniel Deronda", de George Eliot (1876), una novela que explora el judaísmo en la sociedad victoriana, Emma Lázaro comienza a traducir la poesía hebrea medieval del alemán y algunos ensayos judíos a favor del judaísmo. Una patria en Palestina, trece años antes de que Theodore Herzl fundara el movimiento sionista. Su trabajo más importante es un libro titulado "Cantos de semita", compuesto de poemas con temas judíos y dramas líricos que celebran el coraje judío y defienden la idea de la nacionalidad judía. Estudió hebreo y tradujo poemas clásicos hebreos de las grandes figuras literarias de la edad de oro de España, incluidos los de Judah Halevi y Solomin ibn Gabirol. Muchas de sus traducciones fueron incorporadas más tarde a los libros de oración estándar. Emma también trabaja regularmente en la prensa judía, en el semanario "American Hebrew".
En 1880 se sintió conmovida por el destino de los emigrantes judíos en los Estados Unidos y comenzó a publicar artículos en la prensa local para apoyarlos, más fuertemente después de 1881 y la llegada de inmigrantes rusos en 1881 luego del asesinato. del zar alexander ii (episodio de los pogroms). Hay que decir que este asesinato precedió a una ola de violencia antisemita, la población judía rusa que intentaba refugiarse en los Estados Unidos. En 1882 publicó libros semíticos sobre el tema. Tomando en serio su nuevo papel de bienvenida, abrió un centro de refugiados para los judíos pobres y ayudó a abrir el Instituto Técnico Hebreo en Nueva-York, que ofreció capacitación vocacional a quienes no lo eran. No tienen capacidad de trabajo y por eso les ofrecen autonomía. En Ward Island, trabajó como ayudante para inmigrantes judíos que habían sido arrestados por oficiales de inmigración de Castle Garden. Ella se sintió profundamente conmovida por el destino de los judíos rusos que conoció allí y estas experiencias influyeron en su escritura. Hay que decir que estos inmigrantes eran muy diferentes de los judíos de la clase alta de Nueva-York con los que solía codearse. Estaba particularmente asombrada por los judíos estadounidenses asimilados que parecían avergonzados por estos refugiados judíos, en ese momento muchos judíos estadounidenses no querían asociarse con estos recién llegados simplemente porque temían que estos "judíos diferentes" debilitaran su propia identidad. El estatus social, comprometiendo su capacidad de asimilación en la cultura estadounidense.
Al mismo tiempo, sigue su carrera literaria publicando numerosos poemas. También hace traducciones de poemas alemanes, principalmente los de Johann Wolfgang von Goethe y Heinrich Heine. Ella también escribió una novela y dos obras en cinco actos. En 1883, ante el lento levantamiento de fondos para la construcción del pedestal de la Estatua de la Libertad, tomó una posición a petición de William Maxwell Evarts y del autor de Constance Cary Harrison, escribió un soneto. "The New Colossus" y destinado a subasta en el "Fondo de Préstamos Pedestal de la Estatua de la Libertad de Bartholdi" ("Exposición del Fondo de Préstamos en el Fondo de Bartholdi para La Estatua de la Libertad "). Después de ser publicado en el New York World de Joseph Pulitzer, así como en el New York Times, y así ganar popularidad, el soneto se desvaneció lentamente de la memoria colectiva. No fue hasta 1901, 17 años después de la muerte de Lázaro, que Georgina Theodora, una de sus amigas, encontró un libro que contenía este soneto (¡en una librería!) Y logró resucitar la obra que se creía perdida. Sus esfuerzos dieron sus frutos en 1903, con la creación de una gran placa de cobre en la que se grabó este soneto, y que el visitante puede ver en una pared del museo de la estatua, en la misma base.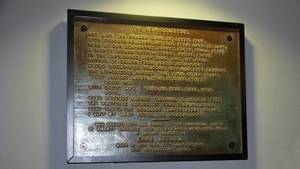 The New Colossus
En 1883 realizó un primer viaje a Europa. En marzo de 1885 murió su padre, y dos meses después, en mayo de 1885, hizo un segundo viaje, todavía en Europa (Italia, Reino Unido). Repetirá un viaje de este tipo en septiembre de 1887 al que volverá fuertemente debilitado. Emma Lazarus murió dos meses después, el 19 de noviembre de 1887, en Nueva-York, a la edad de 38 años. Está enterrada en el cementerio Beth-Olom en Brooklyn.
Emma Lázaro ha sido una importante precursora del movimiento sionista en los Estados Unidos. Ella abogó por la creación de una patria judía trece años antes de que Theodor Herzl comenzara a usar la palabra "sionismo" mucho antes de que fuera popularizada. Fue honrada por la Oficina del Presidente de Manhattan Borough en marzo de 2008 y su hogar en West 10th Street forma parte del circuito sobre la historia de los derechos de las mujeres y los lugares históricos. En 2012 el Museo del Patrimonio Judío lo presenta en una exposición especial. También fue una de las primeras admiradoras de Henry George.
Emma Lázaro tiene un memorial en Nueva-York, él está en Battery Park, al sur de Manhattan. Su dirección exacta es Neighborhood Financial District, NY, EE. UU., Estados Unidos. Es una placa de bronce de 1955 donada a la ciudad por la Organización de Federaciones de Mujeres Judías.
The New Colossus
Aquí está el poema en su idioma original, el inglés. Su traducción y explicación del poema está en esta página dedicada a él.
The New Colossus
Not like the brazen giant of Greek fame
With conquering limbs astride from land to land;
Here at our sea-washed, sunset gates shall stand
A mighty woman with a torch, whose flame
Is the imprisoned lightning, and her name
Mother of Exiles. From her beacon-hand
Glows world-wide welcome; her mild eyes command
The air-bridged harbor that twin cities frame,
"Keep, ancient lands, your storied pomp!" cries she
With silent lips. "Give me your tired, your poor,
Your huddled masses yearning to breathe free,
The wretched refuse of your teeming shore,
Send these, the homeless, tempest-tost to me,
I lift my lamp beside the golden door!